Friends and Family Promotion

I just released The Mexican Connection, the third book in the Ted Higuera series. For one week only, we're offering it at the "Friends and Family" special promotional price of 99 cents.

To order our copy, click here.

If you order today, you can save $2.
O
n November 28th the price will revert to $2.99.
In The Mexican Connection, Ted and Chris are lured to Mexico by an old nemesis. They are dragged into Mexico's drug wars and have to confront the corruption of Mexico's law enforcement.

When Ted's younger brother disappears in Mexico, Ted and Chris charge to the rescue. They meet a colorful cast of characters as they search from border towns to the cosmopolitan Mexico City to ancient Aztec ruins.

Female PI Catrina Flaherty is in Mexico on a mission of her own. She's hunting for the drug dealing husband of a client who he left holding the bag back in Seattle.

You will meet old friends, make new ones and encounter new villains as our heroes cut a wide swath through our neighbor to the south. Throw in a magical Jaguar and an Aztec god and you have a rollicking adventure tale.

Order your copy
today.
---
Bienvenidos to Penn Wallace's Home page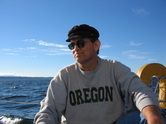 Welcome to my new and improved web site. This is where I can keep you updated with what's going on in my life and with my writing. I would love to hear from you. Is there something you would like to see? Do you have an idea for one of my books? Use the Contact Penn page to send me a note.

In these pages, I'll share travel stories, short stories, insider info and sailing adventures (maybe that should be misadventures) with you. I'll keep you updated on my appearances and let you know about new things coming down the pike.

Be sure to check out my Blog link. I'll be keeping you updated on my thoughts and activities on a regular basis. One of my blog postings, the "Great Dane on Board" series, was so popular that I've included the whole thing on this web site. The highlight of the series is Dawn's video of
"Odin's Adventures."
You can't miss it.

I've also saved the logs of my trip down the Pacific Coast from Seattle to La Paz, Mexico.

If you're interested in our shipwreck at Abreojos, Mexico, go to the Disaster at Sea 2012 page of Penn's Adventures.

Let's be honest, I would like for you to buy my books, but I also want to share a little about my life with you, maybe build a personal relationship. I will be adding short stories and other freebies for friends and fans of my writing. Stay tuned.

Use the Contact Penn form to send me your questions and comments. I'll try to answer all e-mails, complementary and critical, personally. The most asked questions will go onto the Q&A page.

Bienvenidos to my life. I hope you'll keep coming back.
---