The Detox Blues

Things are not going smoothly for the crew of the good ship Victory. I'm afraid that it will impact the rollout of Bikini Baristas.

As you all know, I had total knee-replacement surgery in February. I wrote off the next month. There was no way I could write while dealing with the recovery from surgery.

Then things started to get better. I was able to get a little work done. I couldn't sit at my desk, but I could use a lap desk and write on my lap top from my bed. I started getting back into the swing of things.

The physical terrorists were very happy and impressed with my recovery. I quickly exceeded all of their goals for my recovery and they released me. However, I still had to deal with the pain in my knees.

The doctors tell me that everyone heals at their own rate, but they were concerned with how long the surgery pain went on. Finally they decided it was time to wean me off of the narcotics.

This is where the story gets hairy. I have been taking narcotics for my knee pain for ten or fifteen years. Back in Seattle, when no other pain relievers brought me relief, my doctor prescribed narcotics. For years I took the drug without a second thought.

After surgery, the doctors gave me Percocet, another drug in the narcotic family. By this time my body had developed a dependence on narcotics. As they tried to cut down on the amount of the drug they were giving me, they plunged me into living hell.

For the last three weeks, we've been reducing the amount of narcotics I get each day. Each week it steps down in amount and frequency.

I can't begin to describe how difficult this has been on my poor, tired old body. About two or three hours after a dose of pain pills, I start to get the shakes. About a half hour later, my joints begin to ache. Then I feel like there's a band contracting around my chest and it becomes difficult to breathe.

I suffer through this until time for the next pill, then I have a couple of hours of relief

Needless to say, I can't sleep under these conditions. My nights are spent reading, watching TV and roaming the apartment. When I do get relief from the withdrawals, I fall immediately asleep I'm so tired.

In this condition I haven't been able to progress on Bikini Baristas. I hope you will forgive me and understand. I hear that most detox programs are 28 or 30 days. I'm about twenty days into this hell, so I'm hoping to come out on the other end in a couple of weeks. Stick with me.

I'll do what I can during the couple of hours of relief I have. I'll tough it out and get through this.

I would love to hear your encouragement. Please click here to drop me a line. You have no idea how much it helps to hear a kind word from a friend.

---
Bienvenidos to Penn Wallace's Home page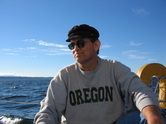 Welcome to web site. This is where I can keep you updated with what's going on in my life and with my writing. I would love to hear from you. Is there something you would like to see? Do you have an idea for one of my books? Use the Contact Penn page to send me a note.

In these pages, I'll share travel stories, short stories, insider info and sailing adventures (maybe that should be misadventures) with you. I'll keep you updated on my appearances and let you know about new things coming down the pike.

Be sure to check out my Blog link. I'll be keeping you updated on my thoughts and activities on a regular basis. One of my blog postings, the "Great Dane on Board" series, was so popular that I've included the whole thing on this web site. The highlight of the series is Dawn's video of
"Odin's Adventures."
You can't miss it.

I've also saved the logs of my trip down the Pacific Coast from Seattle to La Paz, Mexic
If you're interested in our shipwreck at Abreojos, Mexico, go to the Disaster at Sea 2012 page of Penn's Adventures.

Let's be honest, I would like for you to buy my books, but I also want to share a little about my life with you, maybe build a personal relationship. I will be adding short stories and other freebies for friends and fans of my writing. Stay tuned.

Use the Contact Penn form to send me your questions and comments. I'll try to answer all e-mails, complementary and critical, personally. The most asked questions will go onto the Q&A page.

Bienvenidos to my life. I hope you'll keep coming back.
---