The Inside Passage Promo


Wow! I never expected the kind of results that we've gotten from our September The Inside Passage promotion. More than 37,000 people downloaded the book in four days and hundreds bought my other titles. By the end of the promotion, The Inside Passage was #2 on Amazon's best seller list and #1 on their thriller best seller list. This was better than my wildest fantasies.

The promotion also generated dozens of reviews, most of them good. There were a few readers who didn't like the book, but that could probably be said for Gone with the Wind too. Over all, the reviews are very positive.

Even after hiring a proof reader to go through the book, there are apparently still some proof reading errors. After I finish The Mexican Connection, I will make another pass through the manuscript and see if I can clean it up a little. As irritating as it is, these mistakes creep into all manuscripts. I've found proofing errors in books by James Paterson and Patricia Cornwall. I'm currently reading Tom Mix and Pancho Vila by Clifford Irving, the author of dozens of books, and it's riddled with proof reading errors. Don't let that stop you though, I'm finding it a thoroughly intriguing book. Get a copy today.

The BookBub.com promotion was so successful, that I'm going to run a Hacker for Hire promotion in late October, assuming that BookBub will accept my book. The first time I tried to do a promotion with them, they turned me down.

I'm currently setting up readings and appearances for Christmas Inc. in the San Diego area for December. What better way to celebrate Christmas than to read a book about corporate greed and foolish decisions?

Work on The Mexican Connection moves on. I'm in the editing process and will be working with the cover designer soon to come up with a dynamite cover. I'm hoping to publish The Mexican Connection in November.

The Mexican Connection takes place five years after Ted and Chris' adventures in The Inside Passage and Hacker for Hire. Ted has moved to LA to manage Papa's restaurant and Chris is graduating from law school. They are lured to Mexico by an old enemy bent on revenge, where they get dragged into Mexico's drug wars. Don't miss it. You'll be on the edge of your seat.
---
Bienvenidos to Penn Wallace's Home page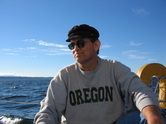 Welcome to my new and improved web site. This is where I can keep you updated with what's going on in my life and with my writing. I would love to hear from you. Is there something you would like to see? Do you have an idea for one of my books? Use the Contact Penn page to send me a note.

In these pages, I'll share travel stories, short stories, insider info and sailing adventures (maybe that should be misadventures) with you. I'll keep you updated on my appearances and let you know about new things coming down the pike.

Be sure to check out my Blog link. I'll be keeping you updated on my thoughts and activities on a regular basis. One of my blog postings, the "Great Dane on Board" series, was so popular that I've included the whole thing on this web site. The highlight of the series is Dawn's video of
"Odin's Adventures."
You can't miss it.

I've also saved the logs of my trip down the Pacific Coast from Seattle to La Paz, Mexico.

If you're interested in our shipwreck at Abreojos, Mexico, go to the Disaster at Sea 2012 page of Penn's Adventures.

Let's be honest, I would like for you to buy my books, but I also want to share a little about my life with you, maybe build a personal relationship. I will be adding short stories and other freebies for friends and fans of my writing. Stay tuned.

Use the Contact Penn form to send me your questions and comments. I'll try to answer all e-mails, complementary and critical, personally. The most asked questions will go onto the Q&A page.

Bienvenidos to my life. I hope you'll keep coming back.
---